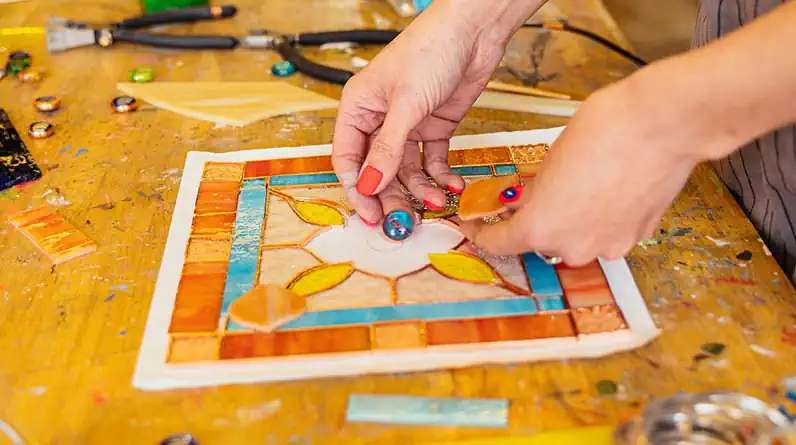 Using Copper Foil or Lead Came for Stained Glass
Using the Stained Glass Copper Foil Technique is a fun way to add a bit of interest to your glass art project. But before you dive in, you should be prepared with the basics of the technique.
Lead or Copper Foil?
You can use lead or copper foil for stained glass to achieve artistic additions to your art piece, however, you should be aware that not all designs lend themselves to these two mediums.
For a project that has a simple design and symmetrical composition, copper foil is probably the way to go. This is because it is simpler to apply and holds more securely than "lead came" construction. This method also holds up better in a dry environment.
The copper foil technique was developed in the late nineteenth century to accommodate the curves of Art Nouveau shades. Today, artists are still finding new artistic uses for this medium. Some of them include Tiffany lamps.
A copper foil tape can be applied to the front of the glass and used to wrap the edges. Once the tape is applied, you can then solder the edges together. This will make the piece look more finished. However, the process can be a little tricky.
Copper foil is also very flexible. It can be used to create very thin leadlines. However, it may not a good choice for thicker lines. This is because the edges will cause the artwork to sag over time.
The copper foil method is a good choice for beginner stained glass artists. However, it is a little more challenging than lead came construction.
If you want to achieve the best results, make sure you practice the copper foil method before you actually use it in a project. This is especially true if you are a beginner. It takes a lot of practice to master the copper foil technique.
Tools Needed
Having the right tools for stained glass can be an important part of making a beautiful piece. Whether you are a beginner or a professional, there are several types of tools available to choose from. Some are quite expensive, while others are quite inexpensive. But before you buy a tool, it's important to know how to use it.
First, you will need a soldering iron. A soldering iron is a piece of equipment that melts solder onto a piece of copper foil or other metal material. It is best to choose an iron that has a temperature control, which will regulate the heat. You should also choose a tip that is at least 1/4″ wide. You will also need gloves, if you plan to use leaded solder.
Next, you'll need to prepare the glass. This includes cleaning it and removing oil. Then, you'll need to apply a layer of flux. This helps the solder to flow better. It also helps to keep the solder from sticking to the glass. You can buy flux in liquid or gel form.
If you're a beginner, you can buy a stained glass starter kit. This includes a soldering iron and a pair of glass pliers. You can also buy a copper foil dispenser device. These devices are a time saver.
Another tool you should use is a glass grinder. This will smooth the edges of your glass, making them more precise. Having a grinder will also help to reduce waste.
Finally, you'll need some shears. There are several different types of shears. Some are made specifically for glass. Others are designed for lead. You can also buy a pistol-grip style cutter, which has a more ergonomic design.
You'll also need a pencil and marker. Using a pencil is fine to help to draw out patterns. But you should also have a permanent marker, which can be helpful for tracing the patterns.
Leaded or Beveled Glass
Using beveled or leaded glass is an exciting way to create a stained glass project. The technique can add elegance and a sense of old-world charm to a project. Beveled glass is usually used for mirrors and doors, but it can be used for windows and tabletop displays. The combination of textured glass and beveled glass creates a gorgeous contrast.
Beveled or leaded glass is usually a bit thicker than regular glass. This can be an aesthetic advantage but may be a disadvantage if the project has large gaps between the glass pieces. Using the copper foil technique can help eliminate gaps between the glass. However, this technique requires the precision laying down of copper foil and the precision cutting of the glass.
In addition, some glass artists use a soft metal around the outside edge of the glass to help hold it in place. This is also called "caming." However, this method is not as accurate as copper foiling and may result in the artwork being off-size.
The most common width of the beveled edge of the glass is 1/2″. However, large pieces can be as wide as 1-1/2″. If you want a more contemporary look, combine textured glass with beveled glass. You can use a variety of different shapes and sizes for beveled glass, including geometric shapes. The combination of beveled and textured glass can also be used to add a touch of sophistication to a project.
There are several different types of lead that can be used for leaded glass. They include flat lead, round lead, and heart lead. Flat lead puckers up more than round lead, so it is ideal for leading curved shapes. If you are trying to create a design with a large number of points, you might want to use heart lead.
The best way to determine whether or not the beveled or leaded glass you are using is old is to consider the thickness of the glass. Old glass tends to be thick, with bubbles and flaws. This makes it hard to determine the age of the glass.
If the leadline is wavy or off, this may be a sign that the glass was cut poorly. If the leadline is straight, this can be a sign of good glass cutting. However, if the leadline is too wide, this can be a sign of bad glass cutting or a lack of skill in constructing the artwork.
Common Hiccups
Using the copper foil technique to make stained glass is a very labor-intensive process. You need to be careful to center your copper foil and to start at the correct end of your piece. If you start on the outside edge, you may have a hard time getting it to stay in place.
Copper foil works best when it's thick enough to cover one-sixteenth of the front and back sides of your piece. This is a good rule of thumb for most standard copper foil stained glass pieces.
You should also be careful to make sure that your foil is clean. You can clean it by wiping it with a soft cloth or using a rubber eraser on the end of a pencil. If you are working with textured glass, you can use cork to apply pressure to the foil. Cork also helps to reduce tearing and crimping.
You can also cut your copper tape outside the center of your glass, but be careful not to cut it too thin or it may come off. If it does, you may need to start over. If you are working with a textured glass, use a cork to crimp the foil, and a cork eraser to clean the foil.
You should also make sure that your copper foil fits into your master pattern. If you have a piece that is a bit wider than your master pattern, you can increase the width of the foil to increase the stability of your solder.
Conclusion
The Stained Glass Copper Foil Technique is a fun way to add interest and depth to your glass art. This method of glass application is not limited to stained glass. It can be used in windows, bottles, bowls, and more.