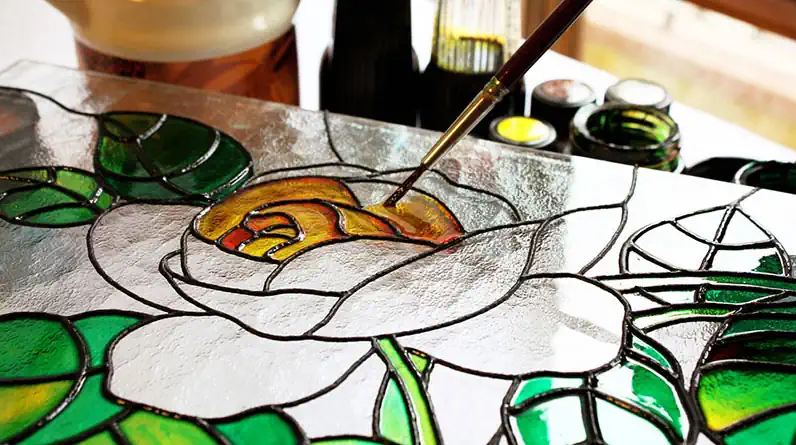 Painting Stained Glass
You may have mastered stained glass construction, but stained glass painting seems like a mystery and looks difficult. Most stained glass crafters know little about the process and the materials needed for painting stained glass, but it should be just another step in the whole process of creating beautiful stained glass windows.
Some people have a misconception that stained glass is clear glass that has been painted to a desired color. Actually, stained glass is colored while it is still in its molten form by adding metal oxides. Painted stained glass is already colored and has had a design painted on it.
Painting on stained glass is done to add humanistic details of the face, hands, feet, or shading of the body and hair. Painting reduces the amount of cutting and leading of many tiny pieces of stained glass. Painting enhances the beauty, textures, and color that are already in the stained glass.
You don't have to be a talented "artist" in order to paint on stained glass windows, although, a little drawing experience and some knowledge of perspective and the human anatomy can be helpful. If you can find classes on stained glass painting, it always helps to learn from someone who has already learned what works and doesn't work. If you cannot find classes, look for information online, on related online forums and in instructional books at craft stores, stained glass shops, or in your local library.
You can spend as little or as much as you want on stained glass painting tools and supplies. You can get started for as little as $20 to $100. You can save money by making some of your own stained glass painting equipment. Suppliers for stained glass paints and tools can be found by searching on the internet and at craft and supply stores. Be careful of the paints you choose because the paints for stained glass painting are specific.
Stained glass paint is a high-fired permanent paint that actually has glass (called the vehicle) in it. Stained glass paint also contains lead and has coloring agents like sand, alumina, clay, red or white lead oxide, boric acid, potassium and sodium. The lead in the stained glass paint refracts light. The matt (paint) can be applied, taken out in the tracing, fired, and then applied again, depending on the lighting, detail, and textures you want to achieve in your stained glass painting.
A few good brushes, spatulas, a small easel with a thick-plated glass surface, a light box and an inexpensive small, electric kiln would be a good start on supplies needed to do stained glass painting. In order to save money, you could build your own easel and light box and purchase a used kiln from ads in stained glass magazines or online. You can also make your own mahl sticks and bridges which are wooden supports for your hand and arm for helping with paint stroke technique.
Your work area does not have to be large. It could be an area set aside in your stained glass workshop with a good source of natural light from a window. You need plenty of storage including a palette box for storing the color palettes you make.
You will need squares and rectangles of scrap clear glass, ground and rounded on the edges to prevent cutting yourself. These scraps will be for practicing your stained glass painting and tracing technique.
Age-Old Techniques
Historically, stained glass artwork was made by staining windows in churches and cathedrals with vinegar. Today, modern stained glass paints are made with manufactured chemicals. They are sealed with a waterproofing layer to protect the paint.
Vinegar trace paint is used for creating design lines. It is a dark color that is applied to the glass. When the glass dries, the paint will flake. This is how the artist can see their design through the glass.
A good method to use is to draw a design on paper or a stencil. You can use a dry-erase marker to make a stencil. You can also tape a design onto the glass using masking tape. You can also use ready-made stencils.
For beginners, try to use simple designs. For intricate designs, you may have to practice a bit. You can also stick the design onto the glass with paint. This will protect the glass from fingerprints and prevent any smudges from ruining your design.
You can also use an oil-based spray paint for this type of painting. These types of paint are easy to use and allow light to flow through. It is also cheaper than acrylic enamel paints. If you plan to paint frosted glass, this is the best type of paint to use. It also allows you to create privacy and privacy is important in stained glass painting.
Once the design is completed, you can clean the glass with a damp cloth. It is also important to seal the glass after it has dried. This will make the paint last longer. You can also clean the glass with paint thinner.
For a more opaque finish, you can use two or three coats of glass paint. You can also use a thin layer of matte paint. You can blend it to create different shades of color or use a brush to apply it.
You can also use solvent-based paints, but these paints can be harsh on the glass and they are not suitable for children. They are more expensive and may contain fumes. They can be applied by using a spray or a dropper.
High-Firing vs Low-Firing
Choosing between high-firing or low-firing when painting stained glass is a matter of personal taste. If you are a beginner, a low-firing option will work for you, whereas a high-firing one is best suited for experienced glass painters.
This is due to the fact that high-firing is usually necessary to achieve a high-quality finish on larger glass works. Similarly, a high-fired paint is best suited for fusing, while a low-fired one is best suited for leaded panels.
The best high-firing glass paints are those that are lead-free. This is because lead is a hazardous material and can easily be vaporized by the heat of the fire. It is also important to note that there are some stains with toxic oxides. These can be safely used, but they can also be hazardous if used incorrectly. Low-fired paints on the other hand, can be used safely on panels made of copper foiled glass.
Armed with the knowledge above, you will find that there really is no mystery to stained glass painting.