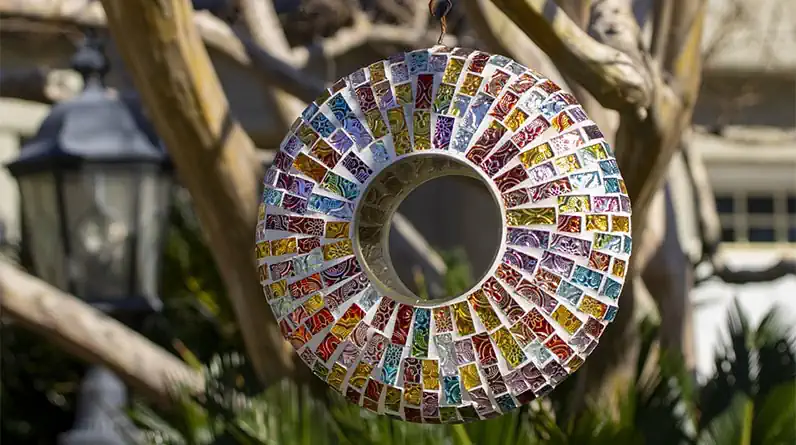 Stained Glass Art for Your Garden
Adding a few stained glass pieces to your garden can enhance the beauty of your outdoor space. From a window-hanging suncatcher to a stained glass stepping stone, you can find a wide range of options to create an eye-catching focal point.
Bluebird Window-Hanging Suncatcher
Whether you're decorating your home or office, a Bluebird window-hanging suncatcher with stained glass art is a great way to incorporate a touch of nature into your décor. Besides, it's actually pretty cheap.
You can create a suncatcher using glass or acrylic with a suction cup for hanging. You may even want to include an LED light chain for nighttime displays. It's a cheap way to jazz up your home or office.
A Bluebird window-hanging suncatcher can be the perfect gift for the bird lover in your life. For the same reason, it's a great decoration for the patio or garden. As for its maintenance, it's a breeze to clean. To keep it sparkling, simply wipe it with a cloth on a daily basis. The finish won't fade, and it's UV resistant if you've used the correct type of glass or acrylic.
Stained Glass Stepping Stones
Adding stained glass stepping stones to your yard is a great way to add beauty and functionality to your outdoor space. These stones can be designed with a specific theme or you can use small figurines to create a personalized touch. You can make them as a gift for a special someone, or they can be used to commemorate an occasion. They are also a fun family project.
You can make a mosaic stepping stone in as little as an hour. You will need a pan, a square piece of wire, and a reusable mold. You can also purchase kits that include everything you need to make a mosaic stepping stone. The kit includes a reusable mold, a cement slurry, stencils with cut-out letters, and a variety of colors.
You can also create colorful sea glass stepping stones. These can be made from inexpensive materials. They are especially pretty when they are wet. You can even incorporate sea shells and other hard objects into the design. You can place these stepping stones in your backyard or front garden.
If you want to add mementos to your stepping stones, you can attach tiny tools and knitting needles. You can also include hearts of all shapes, musical notes, and other designs. You can also add the date of your wedding or other important event. You can find mementos that will fit any theme.
You can also make stepping stones out of broken teacups. Just break the teacups into flat pieces and insert them into the cement. You can then push them down into the cement to make it easier to step on them.
You can also use a large wooden popsicle stick to apply the tile mastic adhesive. It is important that the tile mastic is thick enough to hold the glass tiles. It should be spread thinly and you should wipe the surface with a damp sponge. If you do not place the tile mastic on contact paper, the adhesive may dry out and fall out of the stepping stone.
You can make these stepping stones for your own use, or as gifts for friends and family, and perhaps even make a personalized stepping stone by adding your loved one's name to the design.
Easy Stained Glass Effect for the Garden
Another cool way to decorate your garden is to use colorful bottles to create flower borders, which gives it a stained glass appearance. You can purchase the bottles at your local craft store, or you can make your own with plastic beads and a melting pot. You can even buy a copper foil wrapping tool to finish off the look.
DIY Stained Glass Mosaic Light
Creating a stained glass mosaic light for your outdoor space is a great way to add a touch of light and color to your garden or porch.
In order to create a mosaic light, you'll just need a backing surface like a tabletop and the mosaic pieces. If you already have a tabletop, you can buy or cut a design out of it and use that as your base. You may even find a thrift store with inexpensive tabletops if you don't have one.
After you have selected your pieces, you'll need to determine how to apply the adhesive depending on the type you're using. You'll want to pick an adhesive that is water-resistant. You can either apply it directly to the tabletop or use a squeezable tube.
Before you begin, it's important to clean all of your materials. You can use soap and water to remove dirt and dust, then dry them. If you're mixing powdered adhesive, you'll need to wear a dust mask to avoid breathing in the chemicals.
You'll want to choose a sealant for your mosaic. This is a good way to protect your finished project and give it a high-gloss shine. It's best to use two to three coats. It's also a good idea to wait at least a day or two between coats.
Once you've finished your DIY stained glass mosaic light, you can hang it on your porch or elsewhere in the yard where it will reflect the Sunlight.