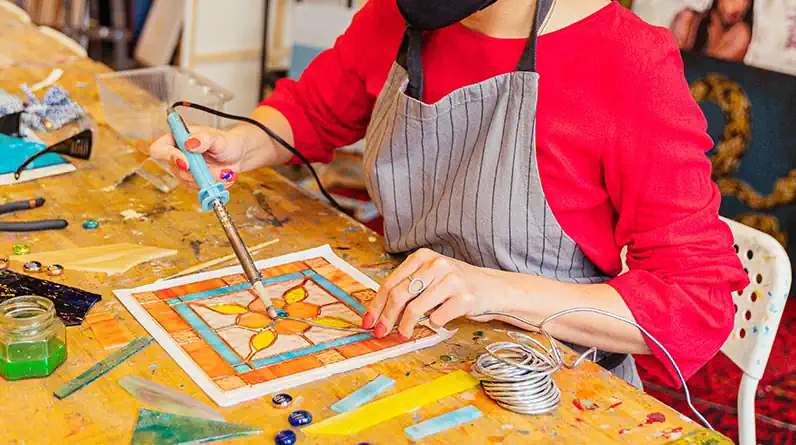 Soldering Your Stained Glass Properly
Using a soldering iron to create beautiful stained glass art is a great way to express your creativity. In this article, we will cover how to properly use your iron, as well as how to create beautiful and three-dimensional pieces of stained glass.
Clean Your Iron
Whether you're soldering stained glass or other metals, you need to clean your iron before soldering. This helps keep your iron clean, prevents you from transferring oxidation and preserves your tip plating.
To clean your iron before soldering, you need a sponge designed specifically for soldering. Using a wet sponge removes the buildup of oxidation and flux. The sponge should be damp and made of sulfur-free materials like cellulose. This sponge will remove oxidation and flux more effectively than a normal sponge.
You'll need to use your iron at a low temperature to prevent burns. This is especially important if you're a beginner. Practice will help you achieve smooth seams and control the temperature of your iron.
Using a clean tip will prolong the life of your iron and make your stained glass soldering process faster and more effective. You'll also want to check the amount of flux you have. Flux is used to coat the tip of your iron so that the solder flows across its surface. It can also be used to correct dull-looking areas on the tip's surface.
Select The Right Wattage
Choosing the right wattage to properly solder stained glass is important. If you choose a soldering iron with a low wattage, the heat will be slower making it more difficult to accomplish the task. However, if you choose a higher wattage, you will be able to reach higher temperatures more quickly, giving you better control.
A good soldering iron should be light and comfortable to hold. This will make your stained glass work easier. It would be best to choose an iron with a temperature modification feature. If you do stained glass work frequently, you will need a tool that can adapt to a wide range of temperatures for different situations.
A soldering iron with a ceramic element is great for stained glass projects. It retains heat for longer periods of time and avoids cold spots. However, a ceramic element is not a good choice if you need a fast heat up time.
The best soldering iron for stained glass work should provide a temperature range of 80 to 150 watts. This is a good temperature range for most projects. The high-end irons come with a heavy-duty wattage of 200 watts or more. They are also more expensive.
Another important consideration when choosing a soldering iron for stained glass is weight. If you are doing a lot of projects, you want an iron that is easy to carry around.
Another thing to consider is the tip size. A large tip is better for soldering small pieces of glass. However, a smaller tip may be required for other projects. Some tips include point, chisel, and conical tips. You can also choose a tip that is angled. This will help make it easier to smooth the solder line.
Creating Decorative and Three-Dimensional Pieces
Creating stained glass windows can be an intricate process. The pieces are cut out and then soldered together. This process makes for a three-dimensional piece that can be used in homes, restaurants, and hotels, and is often associated with grand buildings and religious settings.
First, you need to decide on a template. This is typically done with a large sheet of paper you draw on, or a mechanical drawing.
Next, you'll want to pick the glass. There are many different types of glass to choose from, including opalescent glass, which can be used to create marbling effects. You'll also need lead and copper wire.
Using the copper foil method is one of the easier ways to wrap a glass edge. It's also the most cost-effective method. The copper foil has a black backing, which can help add dynamism to your project. It's also easy to apply evenly.
The copper foil method also teaches you how to properly cut glass. This is one of the most important aspects of this process. You need to make sure that all the edges of your glass are cut correctly.
Safety Considerations
Whether you're a beginner or a seasoned stained glass artist, you'll need to wash your hands after soldering stained glass. While lead is generally safe, it's toxic to our bodies. It affects our nervous system, eyes, and kidneys, and can cause reproductive problems, muscle pain, and memory problems.
You should wear a face shield and closed-toed shoes while you're working. Keep your work area well-ventilated and clean. Avoid eating, drinking, or using your mouth while you're working. It's a good idea to keep your children away from the work area while you're soldering.
If you're soldering a large panel, you may want to consider purchasing a portable fume extractor. The fumes produced when heating solder can cause respiratory illnesses. If you're working with lead, it's also important to dispose of the materials as hazardous waste.
Lead-free solder is a substitute for lead solder, and is made from tin and copper alloys. It takes a little longer to complete the process, but the risk of lead poisoning is minimal.
You'll also need to use special lead-cleaning wipes. These will remove invisible black dirt from the solder lines. The wipes can be purchased at your local hardware store or home improvement store.